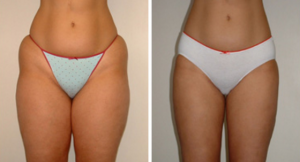 A great way to target unwanted fat from various areas of your body is with liposuction! Sacramento's Shahriar Mabourakh, MD, FACS provides this cosmetic surgery to patients who are looking to slim down, but cannot achieve the results that they desire through diet and exercise.
Certified by the American Board of Plastic Surgery (ABPS) a fellow of the American College of Surgeons, and a member of The American Society of Plastic Surgeons (ASPS), Dr. Mabourakh is capable of producing wonderful surgical results.
If liposuction in Sacramento is of interest to you, please continue reading to obtain more information!
About Liposuction
Body contouring by liposuction "lipoplasty" or "suction-assisted lipectomy," is a popular procedure among men and women alike. Designed to reduce or eliminate fullness or stubborn deposits of fat, this type of cosmetic surgery is a successful way to transform a figure from unflattering to impressive!
During surgery, our Sacramento plastic surgeon Dr. Mabourakh will use a small probe known as a "cannula," to remove excess fat from desired areas of your body. By doing so, you can obtain the shape that you are unable to achieve through natural methods. It is important to realize that this procedure is not a first resort and should be performed only if diet and exercise are unsuccessful for you.
Common locations for which liposuction is performed include:

Cheeks, chin, and neck
Upper arms
Abdomen, hips, and buttocks>
Thighs, knees, calves, and ankles
If you are looking to specifically target your stomach, you may also want to consider "abdominoplasty," Dr. Mabourakh is also a Tummy Tuck Sacramento provider! Using both of these procedures, he can help you to obtain an especially tight abdomen with optimal results.
Here at Folsom Plastic Surgery & Laser Center we have the latest equipment for liposuction including Ultra Sonic assisted Liposuction as well as power assisted liposuction. Dr. Mabourakh uses very small cannulas to obtain the best possible result. With the use of Tumescent techniques post-operative pain and swelling are minimized. Also we use special garments after surgery that are designed specially for liposuction and are easy to wear. There are no fees for the frequent pos-operative visits to make sure you surgery experience is a pleasant one.
Recovery for liposuction of the body and face is relatively quick. There is a special garment that we provide for you. Patients are out of bed the same day and surgery and may resume a desk job in 3 to 5 days after surgery.
View before and after photos of Dr. Mabourakh's past patients! You can also read patient testimonials to learn how others have benefited from his care. If you feel that our Sacramento liposuction specialist can be of assistance to you, please schedule a consultation.
You can contact us by calling our Folsom office at (916) 984-8585, or our Stockton office at (209) 464-5656. We also offer the option of an online contact form if you prefer that we contact you.