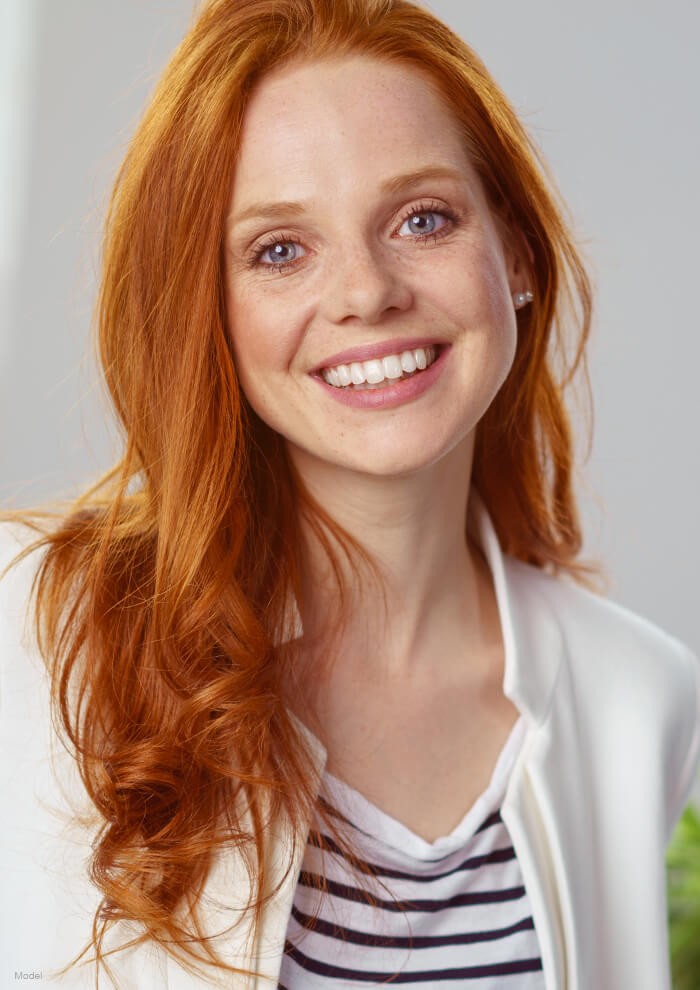 Brow Lift (Forehead Lift) in Sacramento
A forehead or brow lift can do wonders for your appearance and self-esteem by reducing facial lines that make you look angry, tired, or older. A brow lift can correct heavy, sagging brows, eliminate deep furrows, and remove forehead wrinkles by utilizing the classic or endoscopic brow lift on the forehead and repositioning muscles and tissues.
Dr. Mabourakh uses the most current endoscopic brow lift techniques in the Sacramento area, which uses shorter incisions and results in smaller scars in the hairline. If you are interested in the benefits of a brow lift, contact Dr. Mabourakh to schedule your consultation.
What Are the Benefits of a Brow Lift?
Reduces Wrinkles
Brow lift surgery targets forehead wrinkles, frown lines, and furrows across the forehead. This procedure can reduce the visible signs of aging and may adjust your features so that your face does not frequently appear angry or worried.
Elevates the Eyebrows
Due to age or genetic factors, the skin around the eyebrows weakens and begins to sag. When this occurs, it may result in an older appearance, a less-appealing facial structure, or reduced sightlines. A brow lift can correct these issues.
Increases Expressiveness
A forehead lift can adjust the way your skin muscles and fat lay on your forehead. This treatment can change your appearance to reflect a more open and alert expression when at rest. A forehead lift may also make your eyes more expressive.
How Is Brow Lift Surgery Performed?
What Are Your Concerns About Brow Lift Surgery?

Recovery
Coronal brow lift patients may experience numbness or discomfort around the incision, which can be controlled with over-the-counter or prescription medication. Swelling may affect your cheeks and eyes; however, this should begin to disappear within the first week. As the nerves heal, numbness on your scalp may be replaced by itching. These sensations may take up to six months to disappear entirely.
Endoscopic forehead lift patients may experience some numbness, incision discomfort, and mild swelling. Patients usually experience less itching sensations when compared to patients who have had the coronal forehead lift. Incision site pain is usually minimal and can be controlled with medication.
Scars
Scarring is expected to develop after a brow lift at all incision sites. Dr. Mabourakh will discuss the incision placement with you during your consultation to ensure that your scars will be easy to conceal. This can be more challenging for people who are bald, have receding hairlines, or who keep shorter hairstyles. In such cases, alternative incision placements may be available.
Cost
The cost of a brow lift surgery varies depending on the technique performed. Dr. Mabourakh's office can provide you with an accurate cost estimate once he has had a chance to examine you during your consultation.
Pain
Pain varies based on technique and treatment options. In general, the endoscopic forehead lift procedure tends to result in less pain and fewer aftereffects during recovery as compared to the traditional coronal lift.
For a second time THANK YOU for everything. You ladies are the BEST! Dr. M is the BEST! Thank you for being so kind and helpful.
So glad I chose Folsom Plastic Surgery. Love the results of my surgery. Everyone here made me feel so comfortable and relaxed. Thank you!
Such a great experience! No pain after surgery and loved my nurse Heather sooooo much! Would and will recommend to friends. Thank you!
Everyone was so kind and helpful at every phone call and visit. I had visited 2 other offices and yet decided this was the Doctor and team immediately upon consult. So appreciative for the entire experience with everyone helping. Will definitely recommend! Thank you Thank you!
You are all so very amazing and caring and professional. I love this office! The only office, doctor and staff I will ever use or recommend. Love you ll and thank you so much.
Just wish all doctor visits were like you guys!
Frequently Asked Questions