What Is Breast Reduction?
Breast reduction, also known as reduction mammoplasty or reduction mammaplasty, is a surgical breast procedure that reduces the size of the breasts. By removing excess breast tissue and skin, Dr. Mabourakh can improve the size and shape of your breasts. This procedure can also help relieve the physical and psychological issues associated with overly large breasts.
What Can Breast Reduction Do?
Minimize Breasts
Overly large breasts can be uncomfortable and inconvenient in many situations. Breast reduction surgery removes excess breast tissue and fat, creating smaller and more manageable breasts.
With smaller breasts, clothes often fit better, exercise is more comfortable, and you can leave behind the stress of your oversized breasts.
Relieve Pain
The weight of large breasts can cause pain and discomfort while engaging in everyday activities and exercising. Overly large breasts can cause chronic back and neck pain, indentations on the shoulders from bra straps, and rashes beneath and between the breasts.
By reducing the size of your breasts, you can be relieved of the discomfort interfering with your favorite activities.
Expand Wardrobe Potential
People with overly large breasts often struggle to find clothes that fit and look good. Shirts and dresses may fit perfectly in the torso but be too small in the breasts.
Reducing breast size can increase your confidence and expand your wardrobe. You deserve to feel beautiful in everything you wear without the size of your breasts getting in the way.
Model
We can't wait to hear from you
We are now offering virtual consultations.
Call today 916-984-8585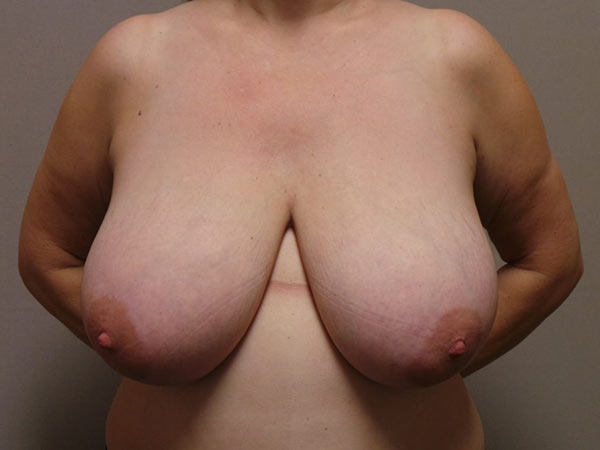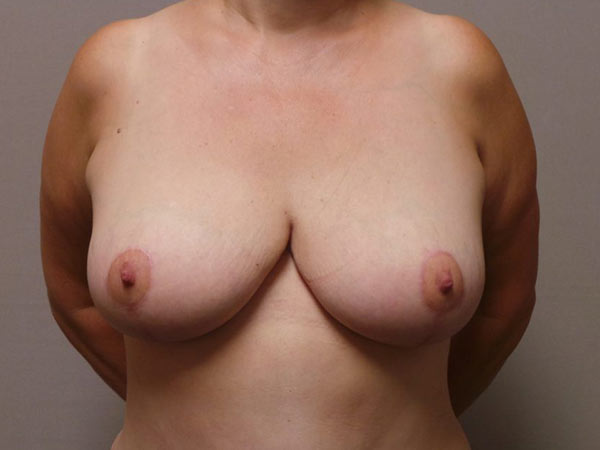 Breast Reduction Before & After
*Results of surgery will vary from individual to individual
Photo Gallery
---
Best Doctor I could of chosen!!! Its taken me 15yrs to pull this trigger and when I did I couldn't of chosen anyone better. As nervous as I was the staff made me feel comfortable 100%, then when I got to meet Dr. Mabourakh it was even better. He wasn't pushy, very honest and extremely helpful in helping me get the look I've wanted all these years. I can honestly say, I'm extremely happy with how everything turned out and I look fantastic just like he promised me!
– Mother of 4
Reviews
What Is Involved in Breast Reduction Surgery?
What Can I Expect From My Breast Reduction Consultation?
During your breast reduction consultation, you and Dr. Mabourakh will discuss your goals and needs for the procedure. At this time, you will have the opportunity to ask any questions you may have and voice your concerns. Dr. Mabourakh will then review your medical history and perform a physical evaluation to determine if breast reduction surgery is right for you.
Once confirmed as a candidate, we will create a personalized surgical plan based on your needs and schedule your appointment for surgery.
What Kind of Anesthesia Is Used During a Breast Reduction?
To ensure your comfort, general anesthesia will be used for your breast reduction surgery.
Since you will be asleep for the entire operation, you will remain comfortable and not feel any pain.
How Is Reduction Mammoplasty Performed?
The techniques for performing breast reduction vary depending on the patient's needs for the procedure. Generally, reduction mammoplasty begins with an incision that goes around the areolas, down the lower breast pole, and along the inframammary breast crease to form the anchor incision (inverted-T incision).
Dr. Mabourakh will then remove excess skin, fat, and tissue from the breasts. In some cases, liposuction can be performed at the same time in areas that may need it.
The remaining breast tissue will then be repositioned, and the skin will be tightened around it.
Model
What Is Breast Reduction Recovery Like?
Since you will be under general anesthesia during your procedure, plan to have someone else drive you home afterward. You may have a small tube placed in the breast area to help drain blood and fluid that accumulates during the first few days.
Patients can often return to work within one to two weeks of their surgery. Strenuous activities should be avoided for at least four weeks to allow your breasts to heal adequately.
What to Wear After Breast Reduction Surgery
The bandages on your breasts will be removed at your post-operative visit. After that, you will need to wear the surgical bra provided for a few weeks to support your breasts as they heal.
Patients often find that it is easier to change if they wear a soft button-up shirt during recovery rather than a top that needs to be removed over their head.
Will I Be in Pain After My Reduction Mammoplasty?
You will likely experience some discomfort in the days following your reduction mammoplasty. This is normal and can be managed with over-the-counter or prescription pain medication.
Will Breast Reduction Leave Noticeable Scars?
Since breast reduction requires incisions, scarring is inevitable. However, Dr. Mabourakh will place these incisions in inconspicuous locations. Additionally, with proper care, scars will fade over time.
Frequently Asked Questions
How much is breast reduction surgery?

Breast reduction surgery costs are based on the amount of correction needed and the surgical techniques used. The cost of a reduction mammoplasty also depends on surgeon fees, anesthesia fees, operating room fees, and the procedure's location.

During your consultation at our Sacramento practice, we will provide you with a detailed financial plan that shows the price of your breast reduction surgery.

Am I a candidate for breast reduction surgery?

You may be a candidate for breast reduction if you are unhappy with the appearance of your large breasts or they are causing you health problems. Breast reduction surgery candidates should be in generally good health, have realistic expectations of their results, and not smoke or be willing to quit for an extended time before and after surgery.

Candidates should also be at or near their ideal weight to achieve the best breast reduction results. Read our blog about the best weight for breast surgery for more information.

How long does breast reduction surgery take to perform?

Breast reduction surgery takes roughly two hours to perform.

Can my reduction mammoplasty be combined with any other procedures?

This plastic surgery procedure is always performed with breast lift surgery so patients can also reshape and lift their newly reduced breasts to achieve a perky, youthful appearance. Liposuction surgery of the surrounding areas or another area of the body can also be combined.

A breast reduction can be performed with a body contouring procedure in what is known as a Mommy Makeover.

Can men undergo breast reduction?

Male breast reduction (known as gynecomastia surgery) can be performed for men who experience excess breast tissue on their chest that is resistant to diet and exercise.

Will breast reduction affect my ability to breastfeed?

Since every woman's body is different, the ability to breastfeed is never guaranteed. Many women successfully breastfeed after a reduction, but not everyone is capable. If future breastfeeding is important to you, you should wait until you are done to undergo surgery.

What are the risks of breast reduction?

When performed by a board-certified plastic surgeon such as Dr. Mabourakh, breast reduction surgery is generally safe. However, risks are present with all surgeries.

These risks include:

Bleeding
Blood clots
Anesthesia risks
Infection
Fluid accumulation