Benefits of Fat Transfer Breast Augmentation
Increase in Breast Size
Fat transfer breast augmentation is an alternative way for women to increase their breast size. It is typical for breast implants to significantly alter your breast size and shape, while fat transfer can provide a more subtle increase with a more natural appearance. The fat transfer technique is typically for women looking for a small increase in breast fullness, rather than a drastic change.
Less Invasive Techniques
The procedure uses only small incisions for the liposuction and transfer of your own fat into the breasts. Since the incisions are so small, the scarring is barely noticeable after the procedure and will continue to become more inconspicuous as time goes on. This technique also allows for a shorter recovery time with less pain and discomfort.
Improved Body Conrtouring
If you find yourself wanting to correct more than one area of your body, fat transfer breast augmentation is one of the best ways to achieve that goal. Since increasing the breast size requires fat from your body, you can request that the fat be removed from certain areas around the body that you find problematic. This will ensure a more balanced and contoured body.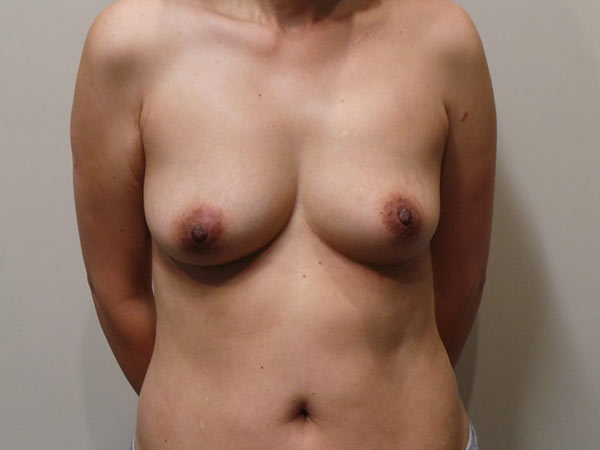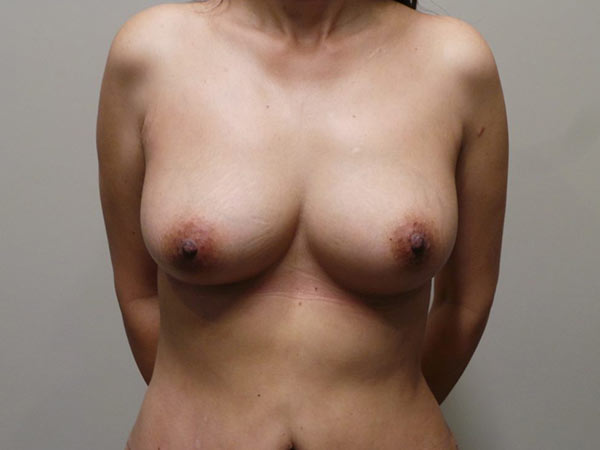 Fat Transfer to Breasts Before & After
*Results of surgery will vary from individual to individual
Photo Gallery
---
Outstanding and professional care by Dr. Mabourakh and staff! I couldn't be more pleased and praise Dr. Mabourakh for all of his efforts! The staff and Dr. Mabourakh could not have been more attentive to my after care needs, especially nurse Heather, to which I was so grateful. Thank you for everything!
Read More
Areas That Can Be Liposuctioned During Fat Transfer Breast Augmentation
Thighs
Through the fat transfer breast augmentation, you and Dr. Mabourakh can choose to remove fat from your thighs if you feel like this is a problem area. Slimmer thighs can greatly complement fuller breasts and create an hourglass figure.
Stomach
Flattening your stomach through liposuction will enhance the profile of your bust by getting rid of the stomach pooch that competes with the projection of your breasts.
Back
Having excess back fat can be a barrier to showing off your new bust since clothing that highlights the breasts might also reveal more of the back. Trimming away back fat can create a much more cohesive upper body appearance.
Upper Arms
Any attention that is drawn to an increased bust will also bring attention to the upper arms since the two body parts are so close to one another. By slimming the arms, the breasts become a more focused focal point.
Recovery
The procedure takes place at our fully accredited surgery facility, and you will be able to leave within an hour or so after surgery. Soreness will occur for the next two to four weeks. During that time, you should not undergo any strenuous physical activity. It is vital to follow the instructions of Dr. Mabourakh to ensure a speedy recovery.
Scars
Neither liposuction nor the fat transfer cause any significant scarring. The small scars that do develop are very inconspicuous and will continue to fade with time.
Cost
The cost of your fat transfer breast augmentation will vary depending on the extent of the procedure and the surgical techniques used by Dr. Mabourakh. You will be provided with an accurate cost estimate during your consultation.
Pain
It is normal for minor bruising and swelling to occur after undergoing the procedure. Pain tolerance depends on the individual but can be managed with over-the-counter medication or prescribed medication.
Frequently Asked Questions
Are there any risks to fat transfer breast augmentation procedure?

As with all procedures, there are some risks that may occur, such as cysts, infections, microcalcification, and necrosis. It is also normal for some of the transferred fat to be partially absorbed after surgery.

Is fat transfer breast augmentation permanent?

Typically, not all fat will survive in the breast area. The permanent results are typically noticeable by six months. Weight gain or loss can affect the results of the breasts.

Am I the right candidate for this procedure?

Anyone who does not want to go through a traditional breast augmentation but wishes to receive similar results is the right candidate for this procedure.

What is the difference between fat transfer breast augmentation and breast implants augmentation?

Fat transfer to the breast uses no foreign body as we transfer your own fat to improve breast shape and size. Breast augmentation includes placement of the breast implant which is a foreign body and has its own possible complications.
---
Consultation
Choose between our in office or virtual consultation. If you're interested in learning more about one of our procedures, feel free to call
916.984.8585
or contact us for additional information.
---