Chin Implants in Stockton
Model
Dr. Shahriar Mabourakh is a double-board-certified plastic surgeon who can improve your chin appearance with chin implants. Chin implants are typically made of silicone and come in various sizes and shapes to blend with your facial features. The synthetic material of chin or jaw implants mimics the feel of natural tissue in the chin and is custom fitted to your facial shape and skeletal structure.
Who Is a Candidate for Chin Implants?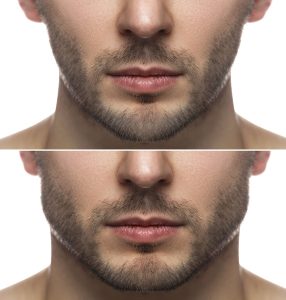 Dr. Mabourakh may recommend chin implants to address cosmetic concerns or restore your facial shape and chin projection after a facial injury or illness, such as a facial fracture or tumor removal. People with chins that don't stick out far enough or are disproportionate to the forehead, nose, and other facial features may qualify for a chin implant. Chin augmentation with an implant can be combined with other face procedures, such as rhinoplasty, facelift, brow lift, or facial masculinization surgery for transgender men.
Some key qualifications for chin implants include the following:
You are a nonsmoker or willing to quit nicotine use before and after jawline balancing.
Your skeletal structure has reached full maturity with complete bone growth, which typically happens in late adolescence.
You have realistic expectations for the chin augmentation procedure and results.
You are physically healthy.
You do not have a jawbone deformity, jaw disorder, or short chin.
Chin Implant Procedure
Placing a jawline implant requires local anesthetic, IV sedation, or general anesthesia, depending on your needs. Our facial plastic surgeon then makes an incision in the natural crease under the chin or inside the mouth where the lower lip meets the gums. Dr. Mabourakh uses special tools to move the tissues, skin, and fat and gently stretch the area to form a space or pocket for the implant. He inserts the implant and molds the silicone to the shape of your jawbone to create a natural appearance. Dr. Mabourakh closes the incisions with dissolvable sutures. Incision lines inside the mouth leave no visible scarring, and the small incision in the chin crease is barely noticeable after the tissues heal.
Chin Implant Recovery
Dr. Mabourakh will apply a dressing over the chin implant and incision that stays put for up to three days. You may go home after chin augmentation even if the chin implant is part of a more elaborate set of procedures. You can expect some tenderness and discomfort after chin implant surgery, and our facial plastic surgeon may prescribe pain medicine to make you more comfortable during recovery.
Chewing can be challenging after chin augmentation, and you may need to stick to a liquid diet or soft foods for several days. Avoid heavy lifting, strenuous activity, and bending over for up to two weeks. Most patients report feeling a stretched or tight sensation after surgery that lasts about one week.
Chin Implant Results
You may notice a difference in your facial profile and jawline right after the chin implant procedure. However, swelling and surgical dressings will obscure your results for some time. You'll notice improved chin definition throughout the healing process. Most swelling should be gone after six weeks, but the jaw may take six to 12 months to heal and reveal your complete results.
Contact Folsom Plastic Surgery About Chin Implants
Dr. Mabourakh uses the latest plastic surgery techniques and procedures. He takes care to get to know you and your cosmetic goals, building a trusting doctor-patient relationship so you can make informed, careful decisions about your face and body.
Schedule a consultation with Dr. Mabourakh at Folsom Plastic Surgery. Contact our Folsom, California office at (916) 984-8585 or our Stockton, California office at (209) 464-5656.
---
Consultation
Choose between our in office or virtual consultation. If you're interested in learning more about one of our procedures, feel free to call
916.984.8585
or contact us for additional information.
---