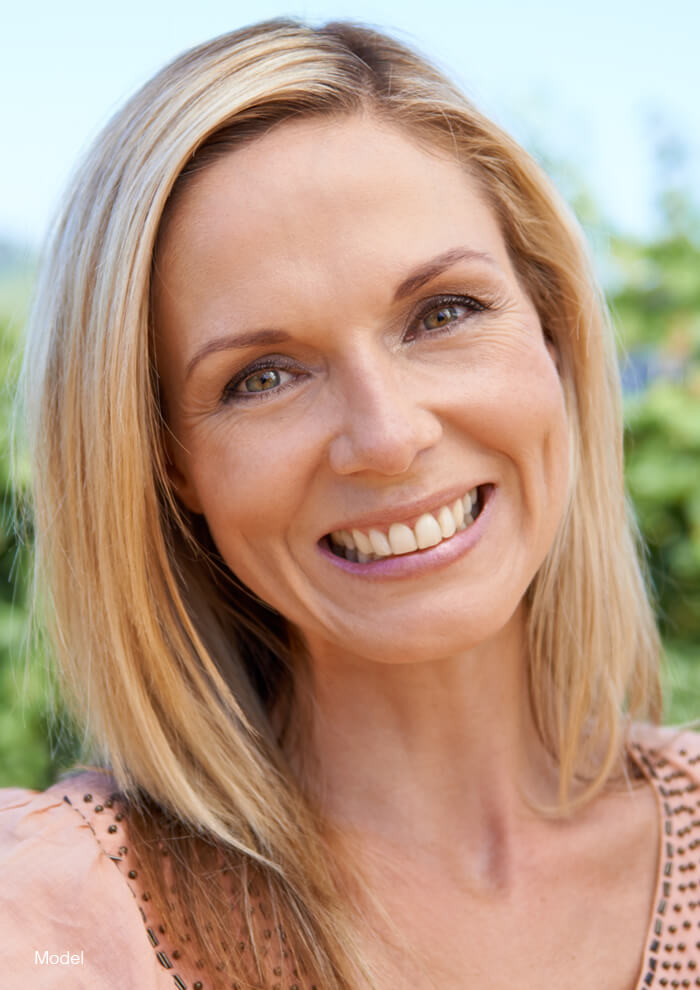 Face Lift
Gravity, sun exposure, stress, and environmental factors cause many people to develop noticeable signs of facial aging. Facelift surgery improves the appearance of fine lines, wrinkles, loose neck skin, and jowls by tightening muscles, removing excess fat, and redraping the skin. This procedure allows patients to regain a more youthful and rejuvenated facial appearance while still looking natural.
Traditional Facelift
A traditional facelift improves many visible signs of aging on the middle and lower regions of the face. This surgery removes excess skin and fat as well as tightening the muscles. Incisions extend from the hairline at the temples, down, around, and behind the ears where the tissues are tightened to reveal natural-looking youthfulness.
Mid-Facelift
Occasionally, time and gravity cause the cheeks to lose their suspension and fall towards the lower regions of the face. A mid-facelift procedure restores the cheeks to their youthful position with minimal risk of visible scarring using Dr. Mabourakh's advanced surgical techniques.
Neck Lift
Neck lift surgery is combined with a facelift when significant jowls or vertical banding on the neck is present. Neck lift surgery involves removing excess fat and skin from the neck region through a small incision made beneath the chin. When performed in combination, a facelift and neck lift procedure produce balance and harmony between the facial features, creating the best results.

Recovery
Facelift surgery is an outpatient procedure. You must have someone come with you to drive you home and provide assistance for the first day or so of recovery. Patients can expect their faces to be bruised, swollen, numb, tender, and tight. These are temporary and will fade within a few days or weeks. Minor dressings will be placed and are removed in 24 hours. Dr. Mabourakh avoids the use of drains during facelift and neck lift procedures. Patients are encouraged to be up and moving around the same day of surgery, but all strenuous activity should be avoided for at least two weeks. Most patients return to work within 7 to 10 days.
Scars
Traditional facelift incisions start at the hairline on the temples and extend in front of the ear and around to the back of the earlobe. Scarring can be minimized by avoiding direct sun exposure and applying silicone strips or gel. All scars fade with time and can be reduced with simple laser treatments in our office.
Cost
The cost of your facelift surgery will be determined by the methods used as well as whether or not any other cosmetic techniques are combined with the procedure. Additional cost factors include anesthesia, surgeon's, and facility fees. You will receive a cost estimate during your consultation.
Pain
Facelift surgery is performed under local anesthesia with sedation or general anesthesia to ensure that there is no pain during the operation. Once the anesthesia wears off, patients can expect bruising, swelling, and numbness, all of which will improve with time. Pain is minimal and well-controlled with medication. Most bruising and swelling subsides within two or three weeks. Residual swelling may remain for a few months.
Outstanding and professional care by Dr. Mabourakh and staff! I couldn't be more pleased and praise Dr. Mabourakh for all of his efforts! The staff and Dr. Mabourakh could not have been more attentive to my after care needs, especially nurse Heather, to which I was so grateful. Thank you for everything!
I am currently 5 days post op and I feel and look amazing. Dr. Mabourakh and his staff are awesome!!! Dr. M is hands down the best!!!




LOVED MY EXPERIENCE! CANT WAIT TO COME BACK!






Frequently Asked Questions