What Can a Tummy Tuck Correct?
Weakened Abdominal Muscles
Pregnancy tends to stretch and weaken the abdominal muscles. A condition called diastasis recti occurs when the abdominal muscles become separated, causing an unsightly bulging. A tummy tuck corrects muscle separation and weakness, eliminating a protruding belly.
Excess Abdominal Skin
Pregnancy, significant weight loss, and aging often lead to saggy, excess skin around the midsection. Sagging belly skin can be unsightly and can even lead to skin irritation and infection. Tummy tuck surgery addresses this issue through excision and repositioning of the remaining abdominal tissues.
Stubborn Fat Deposits
Many people are plagued by body fat that does not respond to diet and exercise. Patients who struggle with stubborn fat deposits can benefit from tummy tuck surgery. During a tummy tuck, excess skin is removed, muscles are tightened, and persistent fat is removed via excision or liposuction.
Model
We can't wait to hear from you
We are now offering virtual consultations.
Call today 916-984-8585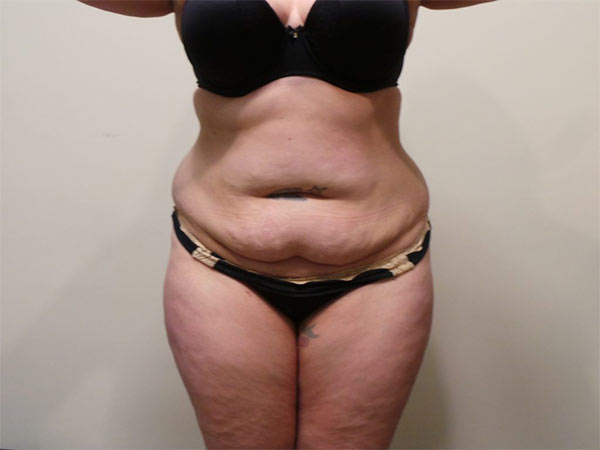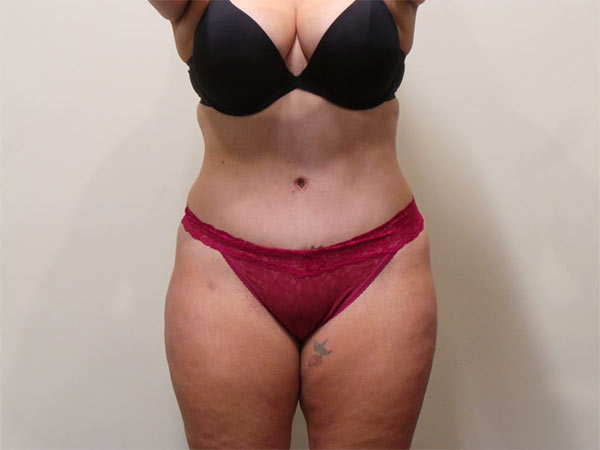 Tummy Tuck Patient Before & After
*Results of surgery will vary from individual to individual
View Photo Gallery
---
Outstanding and professional care by Dr. Mabourakh and staff! I couldn't be more pleased and praise Dr. Mabourakh for all of his efforts! The staff and Dr. Mabourakh could not have been more attentive to my after care needs, especially nurse Heather, to which I was so grateful. Thank you for everything!
Read More
What Are My Tummy Tuck Options?
During your initial consultation, Dr. Mabourakh will evaluate your health, determine the severity of your condition, and carefully assess the quality of your skin. Dr. Mabourakh will give you thorough descriptions of the procedure, your alternatives, and the potential risks.
Complete Tummy Tuck
When doing a complete tummy tuck, Dr. Mabourakh performs liposuction for contouring of the abdomen and hips. Once the contouring is complete, the abdominal muscles are tightened with three layers of closure, producing a firmer abdominal wall and a narrower waistline. The skin flap is then pulled down, and the extra skin is removed. Next, the discreet incision is closed with several layers of absorbable sutures, and dressings are applied. With Dr. Mabourakh's unique approach and drainless tummy tuck technique, drains are no longer required; therefore patients experience less pain, discomfort, and hassle.
Mini Tummy Tuck
If your fat deposits are limited to the area below the navel, you may require a less complex procedure called a partial abdominoplasty, also known as a mini tummy tuck. With partial abdominoplasty, Dr. Mabourakh uses a similar approach to the complete tummy tuck, with one significant difference. Since the mini tummy tuck targets the stubborn area below the navel, relocation of the belly button is not required. During a mini tummy tuck, a discreet incision is made below the bikini line. The muscles are tightened, and the remaining skin is redraped and closed with several layers of sutures. This is also a drainless procedure.
Liposuction
Many patients obtain the best results when they combine their mini or complete tummy tucks with liposuction of the midsection and other areas of the body. Liposuction removes unwanted fat deposits from the midsection and surrounding areas to precisely sculpt the contours of the body. Liposuction removes fat cells permanently, and any subsequent accumulation of fat tends to distribute more evenly instead of collecting in those problem zones.
Model
Recovery
Tummy tuck recovery time can take between two and four weeks. Patients should arrange for someone to drive them home from surgery and assist them for the first 24 hours, as routine activities may be difficult. Bending and lifting are restricted to a minimum, and exercise is not permitted. Patients can resume regular exercise about six to eight weeks after surgery.
Scars
Abdominoplasty does produce a permanent scar that, depending on the extent of the original problem and the surgery required to correct it, can extend from hip to hip. Patients can expect it to take several months to a year or two for the scar to begin fading. While they may never disappear completely, tummy tuck scars will not show under most clothing or even under bathing suits.
Cost
The cost of tummy tuck surgery will vary depending on the extent of the procedure and your surgical techniques used. Dr. Mabourakh's office will provide you with a surgical quote for your surgery at your consultation.
Pain
General anesthesia is used during surgery, which will keep you pain-free. After surgery, some degree of discomfort is expected but can be minimized by the prescribed pain medication.
Frequently Asked Questions
Do I need to quit smoking before undergoing tummy tuck surgery?

If you smoke, plan to quit at least three weeks before your surgery and not to resume for at least two weeks after your surgery. Dr. Mabourakh will give you specific instructions on how to prepare for surgery, including guidelines on eating and drinking, smoking, and taking or avoiding certain vitamins, supplements, and medications.

What are the risks associated with tummy tuck surgery?

The risks of tummy tuck surgery are temporary or rare but include the following:

Anesthesia risks
Bleeding
Infection
Hematoma
Swelling
Numbness of abdominal skin
Pain

Should I wait until I'm done having children to undergo tummy tuck surgery?

Yes. Women who plan future pregnancies should wait before opting for a tummy tuck. Pregnancy can cause the muscles to separate and the skin to stretch out again, reversing the effects of the tummy tuck.

Do I need to lose weight before my tummy tuck?

While the ideal tummy tuck patients should be at or near their goal weight before considering surgery, it is not recommended to go on a stringent diet just before surgery. It can compromise your immune system, making it harder to heal.

Why should I choose Dr. Mabourakh for my tummy tuck surgery?

Dr. Mabourakh has over 20 years of cosmetic surgery experience and is committed to achieving excellent results for his patients. He is board certified by The American Board of Plastic Surgery and The American Board of Surgery. He is also a member of the American Society of Plastic Surgeons and the American Society for Aesthetic Plastic Surgery, and he is a fellow of The American College of Surgeons. Go to RealSelf.com to see how our many patients give us positive reviews.
---
Consultation
Choose between our in office or virtual consultation. If you're interested in learning more about one of our procedures, feel free to call
916.984.8585
or contact us for additional information.
---